We have come a long way since our first release. 
We now have our own winery location, all our own equipment and currently have 12 wines for you to taste in either of our tasting rooms in Walla Walla. One thing has not changed though, our commitment to quality, single vineyard small production lots.
"With Eternal I wanted to create age worthy wines that show a place and time.  Wines you can point to on a map and say this wine is from right here.  Flavors come from the soils and climate changes annually account for the differences in the vintages. I don't make these wines the same way each year nor am I striving for a consistent product with this label.  I want to share with you the variations in years and be true to the grapes.
My larger label Drink Washington State is a more consistent product because I focus on blends.  Blends are great because if a wine is lacking something but has something else (Color, tannins, acid) in spades you can find a wine that balances it out.  Blends are one of the most popular wine categories today in the US. Let me take you on a tour through Washington State!" – Brad Binko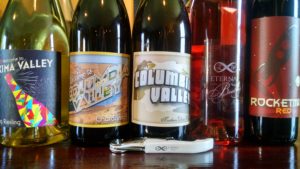 Pictured above was the first release for both labels in Spring 2016